Beyond Annoyance and Pleasure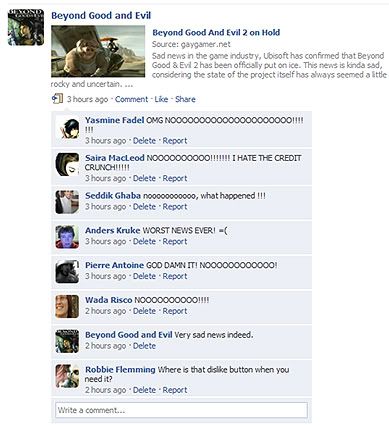 Yesterday, news started circulating on the state of Beyond Good and Evil 2's status as a game. As of right now,
the game has been officially put "on hold"
. Late last month, Ubisoft's North American president ominously stated that simply because the game was being developed doesn't mean it will ever be released. He also acknowledges the franchise's worth as an IP and something they did not want to abandon. With a little bit of questionable motive applied here on my part, I'd say that there's definitely room to voice some back-peddling in his phrasing as well, which is what I'm responding to today.
In quite a few categories, gamers have the right to be annoyed with this news because it's not the first time fans of a dedicated Ubisoft series have seen a sequel slow down in development significantly (see
Splinter Cell: Conviction
). There's no use in Ubisoft trying to manipulate their fanbase's perception of the game now. Releasing a teaser that basically confirmed the title may not have been the best idea, neither was the leaked footage of the running woman (yeah, that's not all Ubi's fault if it is indeed footage of the game, but it's still something they're liable for in terms of responsibility).
What I basically see in this supposed 'hold' is Ubisoft trying to have their cake and eat it too. Professing at this point to keeping Jade in their back pocket is both neglectful and borderline abusive to not only the precious IP they don't want to abandon, but the fans that kept the first game from being a total financial failure as well.
"Well, I didn't say there's definitely going to be another game. I said something had leaked, which means we've been working on some Beyond Good and Evil stuff, but whether there's going to be another game or not, that's something for the future."
---Laurent Detoc, North American president of Ubisoft
I guess it's not exactly breaking news to see a large game publisher/developer submit to the business of the industry, but that doesn't make things any easier to digest. At this point, the best we can hope for would be the game not being cancelled and simply delayed? Even that's being hopeful though...
~sLs~